Don't Risk It, Fix It: Windshield Replacement Service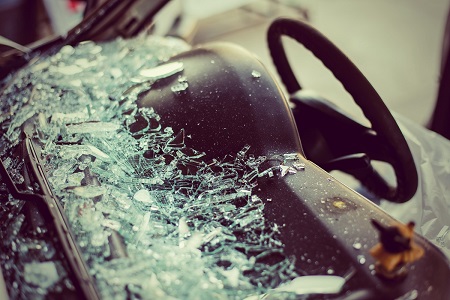 "How bad is it really?"
We have all asked that question when it comes to car maintenance. One way or another, a rock, a pebble or other object meets with the windshield, kissing the glass with a hairline fracture or a chip off the top. Even more unluckily, an impact area will mark ground zero for an errant highway asteroid.
At Collision Auto Glass and Calibration, we know these dings and scrapes feel more like glaring annoyances than flagrant safety hazards. Repairing everything from the smallest chip to replacing the largest pane is a matter of keeping you and yours safe on the road and a matter of quick, painless repairs. Our business offers free quotes and fast services to fix this necessary component of your vehicle quickly and efficiently.
Dangers of Driving With a Cracked Windshield
What are the dangers of continually driving with a cracked windshield? The answers may seem obvious, but knowing what could happen with such a hazard will allow to make an informed choice when deciding to repair or replace the windshield.
Windshield Cracks and Oregon Law
Before begin with the risks of structural stability, shattering glass, ejection or improper airbag deployment, it is important to note the legality of driving with a damaged windshield.
While there are states detailing unsafe conditions for a windshield, Oregon State Law does not specify statutes and thresholds for chips or cracks on the affected area. However, state officers are permitted by ORS 815.020 to penalize operation of any vehicle they deem too dangerous to be operated on Oregon roads. This statute exists to give law enforcement latitude when dealing with potential non-codified safety hazards.
Further, federal law does not permit any cracks or chips within or inside the "Critical Viewing Area" (CVA), defined as the area of the windscreen directly above the steering wheel.
It's important to understand that while one may not consider a crack or chip as imminently hazardous, one can expect the affected area to only grow larger as weather wears on the glass. Eventually, law enforcement may take issue and stop and penalize a driver for the operation of an unsafe vehicle. While not a safety risk, it certainly can be a legal risk, one that ruin an otherwise nice day.
Distracted Driving
Distracted driving may not qualify as the most dangerous result of a defective windshield, but it does qualify as the root cause of many collision.
Chips and cracks cab obscure the CVA and compound with already poor conditions. Even if it just annoys or places the driver on edge, the mark will already have an affect on the vehicle's safety. Safe driving is an affair of calculating risks and mitigating hazards. Leaving a windshield crack untended only enhances risks and exacerbates hazards.
Structural Stability
As previously mentioned, these scuffs and scratches never shrink and are only ever guaranteed to grow larger until untenable. At which point, were a serious accident to occur, the car could seriously injure passengers.
In a situation where the vehicle rolls, an undamaged windshield provides a much need brace between the top and bottom of the car. In a front-end collision, it will protect passengers from flying external periphery and keep everyone inside the automobile.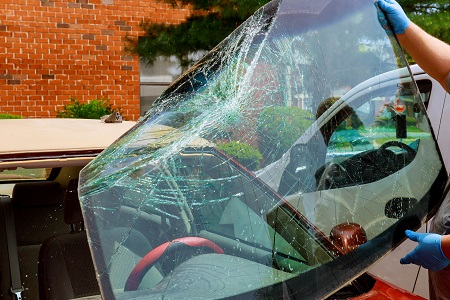 Risk of Ejection
Speaking of keeping everyone inside the vehicle, in 2018 a total of 22,691 persons died in motor vehicle collisions. According to the Center for Disease Control, more than half of these deaths correlated to a lack of seat belt usage.
When a windshield begins showing signs of cracking or receives numerous chips, the risk of ejection in accidents increases exponentially, as does the danger of death on impact.
As the structural stability is ever more compromised, it augments the chances this glass shield transforms into a highly lethal hazard.
Shattering Glass
Besides the threat of violent ejection, there's also the potential for the glass to shatter directly on top of passengers. Shattered glass is already bad news if it happens over the floor, but add those fragments to a suddenly stopping vehicle and they become aerial shrapnel.
Moreover, these shards of glass will compromise other safety features of the vehicle in the event of a crash.
Improper Airbag Deployment
It may not be urgently apparent, but windshields are a vital component to ensuring the proper deployment of airbags towards passengers rather than exploding in any which way. When the windshield shatters, it not only can cut up the passengers but deprive them of the safety feature that would otherwise save their life.
All of these extenuating circumstances leave the driver potentially liable for personal injury, adding to an already stressful scenario of insurance claims.
How can Collision Auto Glass and Calibration Help?
We can handle any job, anywhere. Located in Hillsboro and Tualatin our shops are open for appointment or drop-ins. Can't make it there? No worries, our mobile teams can meet with you to undertake that long overdue replacement, where ever you are. We offer free quotes, free mobile service and a NO LEAK lifetime guarantee. Call or contact us today!