Autel MaxiSYS Calibration Ensures a Safer ADAS System
If you drive a late-model car, chances are your vehicle is equipped with an advanced driver assistance system. These systems can provide 360-degree surround video monitoring, parking assistance, approach warnings, and more. From back up cameras and video monitoring to radar systems and parking assistance, these advanced components require precise calibration when changes occur to your vehicle.
Realignments, windshield replacements, rim and tire changes, and bumper repairs are all examples of aftermarket changes that affect your ADAS system's accuracy. Without proper calibration, these systems won't work properly, and in some cases, cease functioning entirely.
What Has to Happen to Keep My ADAS Working Correctly?
A technician has to re-calibrate your system after every new installation or repair on your vehicle that may affect your ADAS sensors. Whether you're replacing a window or a bumper, most ADAS systems have sensors and components in several parts of your car that can be affected by minor changes like these. This process is very time-consuming and requires precise measurements.
The government and most insurance agencies now require driver assist devices in new cars. About half of the vehicles on the road by 2025 are going to have this feature.
This means that taking your car in for a simple windshield replacement might take far longer than you want to wait. Luckily, our state-of-the-art MaxiSYS calibration technology makes this process quick and streamlined.
ADAS Calibration Made Easy with MaxiSYS
Thanks to pioneering research and development, the traditional calibration method is now out of date. The MaxiSys Calibration Tool gets this process done in a fraction of the time that it used to take. Every shop that purchases this technology gets extensive training to ensure that all of the staff are capable of using it correctly. Since this tool is also portable, your repair technician can take it with them to the site of your vehicle. This product is capable of doing both dynamic and static calibrations.
From your vehicle's 360 video monitoring to its radar and laser sensors, the MaxiSYS will account for any minor or major changes to your car's windows and body, ensuring your ADAS system returns to optimum performance following any repairs or upgrades.
Opti-Aim Makes Windshield Replacements Faster and Safer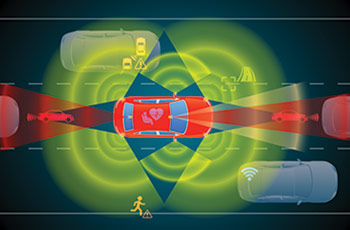 In addition to the MaxiSys technology, our technicians also use Opti-Aim calibration systems for replacing new model windshields quickly and properly. A Driver-assist camera is most often mounted to your automobile windshield and takes continued readings from the road ahead of you. This handy feature can activate the brakes to help you avoid a crash that you might not notice otherwise. This camera is incredibly handy and can prevent possibly thousands of crashes a year.
But did you know that getting your windshield replacedcan cause the camera to malfunction? Here atCollision Auto Glass & Calibration, we have a quick and simple solution that keeps you and your family safe on the road.
What Does a Windshield Replacement Do to My Driver Assist Camera?
As clear as they might seem to the naked eye, cameras are sensitive enough to detect the glass of the windshield. Every piece has slightly different refractive properties than any other pane of glass. When you install a new windshield, the camera still "sees" it as the old one, which can throw off the depth perception feature. This could lead to failure to notice imminent collisions, or to activate the brakes unnecessarily.
The driver assist feature also recognizes street signs and stops the car if you miss them, which saves you from getting a ticket or worse. If you get distracted the system alerts you and prevents you from veering out of the lane that you're in. The cameras can even see your blind spot and pedestrians for you. Perhaps the most convenient feature is adaptive cruise control. This feature allows you to set your cruise control as normal, but it slows you down if you come upon slower moving traffic, then speeds up again as you move to pass them.
What do the MaxiSys and Opti-Aim mean for me?
You no longer have to take the day off to get your driver-assist cameras and other ADAS sensors adjusted. It's also good practice to check on your calibration on a regular basis, especially after an accident. The MaxiSYS and Opti-Aim connect to your vehicle's onboard computer and calibrate everything according to original specifications.
When you drive away with your new windshield, you know that none of your car's features are compromised. You know that you still get the correct warnings about dangerous situations and that your ride is smooth and comfortable thanks to the adaptive cruise control.
Who's got the MaxiSYS and Opti-Aim System?
Collision Auto Glass & Calibration is your local shop for windshield repair and replacement. We carry the MaxiSYS and Opti-Aim and have a team of trained and qualified technicians on staff. Using this technology ensures that your driver assist cameras, laser systems, and radar sensors function as accurately as possible. You can have peace of mind when it comes to your safety and that of your family once you drive out of the shop. We understand better than most what's at stake when you're on the road. We treat you and your family with the utmost care and respect.
What Does Collision Auto Glass & Calibration Do For Me?
Collision Auto Glass & Calibration covers the entire city of Portland, and we also serve as far south as Wilsonville, and as far west as McMinnville. With one call you can have us out to your home or the site of an accident as soon as possible. The MaxiSYS and Opti-Aim are just two of the many innovations that our shop uses to set our service above the rest. Our premium glass holds up to the driving conditions in the Pacific Northwest.
When you meet with our technicians, they treat you in a civil and kind manner. We can answer any questions that you have. Rest assured that any windshields we install have guarantees against leakage for the life of the glass. You can get your pricing upfront so there's nothing to worry about.
If you want to come in and see us, just give us a call, or if it's more convenient for you, fill out this contact form to give us all the information that you need and we get back to you quickly. You deserve service at an affordable rate. Your time is valuable, and the lives and safety of your family are precious. Let Collision Auto Glass & Calibration use the MaxiSYS, Opti-Aim and the rest of our tools and skills to get you back on the road safely today.
---