Auto glass replacement and repair can be complex for many car owners. Whether it's a small chip in the windshield or a major crack that requires a complete replacement, many questions arise. How long does the repair or replacement take? Is it safe to drive with a cracked windshield? Can I fix a rock chip in my windshield myself? These are just some frequently asked questions about auto glass replacement and repair that we'll address in this blog post. By the end, you'll better understand the process and be better equipped to make informed decisions regarding your car's auto glass.
How Do I Know If I Should Get a Rock Chip Repair or a New Windshield?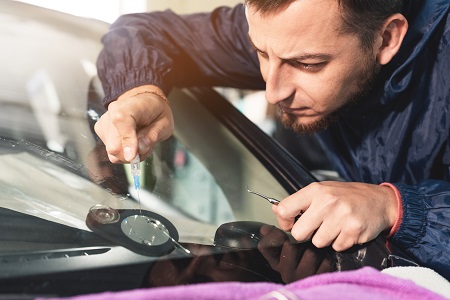 As a driver, it's never a pleasant experience to see a rock chip or crack on your windshield. However, not all damages can be repaired, and it's important to understand the factors that can influence your options for fixing the problem. Some chips or cracks may be too deep or too long, rendering repair impossible.
As a general rule of thumb, chips smaller than a quarter and cracks shorter than three inches can usually be repaired. You may need a replacement if the chip or crack is larger or longer than this.
However, a replacement may be necessary if the damage is directly in the driver's line of sight or if the chip or crack is large or deep.
Additionally, if the damage is located near the edge of the windshield, a replacement may also be necessary to ensure structural integrity.
It's important to seek professional advice and guidance to determine the best course of action for your situation.
Is It Safe to Drive with a Cracked Windshield?
Driving with a cracked windshield is not recommended, as it can be unsafe and potentially lead to further damage. Windshields are designed to provide structural support to the vehicle, as well as protect passengers from the elements and other debris on the road. A crack in the windshield can weaken its structural integrity and compromise its ability to protect passengers in the event of an accident.
How Much Does a Windshield Replacement Cost?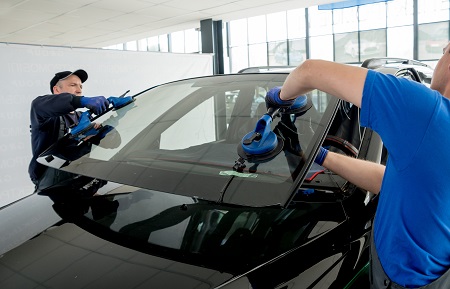 The cost of an entire windshield replacement can vary depending on several factors, such as the make and model of the car, the type of glass used, and the location of the auto glass repair shop. The cost can be significantly higher for luxury vehicles or those with special features. Additionally, if there is any damage to other parts of the car, such as the molding or seals around the windshield, additional repair costs may be incurred. It's always best to obtain a quote from a reputable auto glass shop to get a more accurate estimate of the cost of a windshield replacement for your specific vehicle. It's also worth noting that some insurance policies may cover the cost of a windshield replacement, so it's important to check with your insurance provider before proceeding with any repairs or replacements.
How Much Time Does It Take to Repair or Replace Damaged Auto Glass?
While a repair can be done quickly, a replacement process takes longer due to adhesives needing to cure and bond the new windshield to the frame. A repair job can take anywhere between 15-30 minutes, while a replacement job can take up to 2 or 3 hours, factoring in the time you need to wait until it is safe to drive away from the repair shop.
What Warranty Options Come with a New Windshield?
When installing auto glass, warranties play an important role in providing peace of mind to vehicle owners. However, the duration and coverage of warranties can vary greatly from one business to another. Some warranties may only cover defects in the glass, while others may include both the auto glass and labor.
Does Insurance cover Windshield Replacement?
When it comes to auto glass replacements and repairs, it's important to know what your insurance policy covers. Thankfully, most insurance companies offer different levels of coverage to fit your specific needs. Depending on your coverage level, your deductible could be as low as $0, or you could be responsible for the full cost. To understand what your policy covers, it's best to reach out to your insurance agent for specific details.
Can I Fix a Rock Chip or Crack in the Windshield Myself?
If you're in need of a quick and budget-friendly fix for your car's damaged chip, you may have come across the various do-it-yourself chip kits available on the market. However, countless customers attempt to fix their chips with these kits, only to call for professional help once again. Many of these kits simply don't deliver on their promises and can even damage your vehicle further. It's important to remember that once you've attempted to fix a chip, it's sealed and cannot be improved upon. And with some kits costing upwards of $70, you may be better off leaving it to the pros.
What If I Wait to Get My Windshield Replaced?
Delaying a necessary windshield replacement can lead to several problems:
The damage can worsen over time, especially if exposed to extreme temperatures or inclement weather.

Small cracks can turn into larger ones

, and what may have been repairable initially may require a complete replacement.

A damaged windshield can compromise the vehicle's structural integrity, as windshields play an important role in the overall safety and stability of the car. In an accident, a damaged windshield may not be able to provide the necessary protection, increasing the risk of injury to the driver and passengers.

Driving

with a damaged windshield may also result in a traffic citation

, which is illegal in many states and jurisdictions.
Collision Auto Glass & Calibration Specializes in Window Repair and Replacement
Choosing the right company to replace or repair your auto glass is crucial for your safety on the road. With multiple layers making up your auto glass, top-quality glass and sealants are essential for adequate protection. As a major safety measure, you want nothing short of the best to safeguard yourself, your passengers, and your vehicle. That's why wise Aloha residents opt for Collision Auto Glass & Calibration when they're in the market for auto glass replacement or repair. With a team of auto glass experts who prioritize safety and use only the highest-quality materials, you can rest assured that your auto glass is in good hands. Trust in Collision Auto Glass & Calibration for your auto glass needs and feel confident on the open road.
Contact us today for a free quote from our certified technicians.
Reliable auto glass services we provide:
Auto Glass Repair Services (Rock Chip Repair Services)

Windshield Replacement Services

Door Glass Replacement Services
Visit our About Us page for more information about our professional auto glass company, or visit our FAQ page for more commonly asked questions you may have.