Keep Your Car Safe
Auto theft is not as big of a problem as it used to be, thanks to innovations in protective technology. However, even though the rate of car theft has decreased in the last twenty years, the Insurance Information Institute reports that a car is stolen every 40 seconds in America. The FBI said that over 773,000 vehicles were taken in the United States during 2017, and these statistics don't reflect attempted car robberies. Car owners also have to deal with the hassle of broken glass when thieves try to loot their vehicles. Here are a few tips to help avoid car theft and robbery.
Lock the Doors
The first layer of protection against a potential car thief is a locked door. Get into the habit of making sure all doors are locked, even when the vehicle is parked in front of a home or at a workplace.
Close the Windows
Windows left open can provide a potential car thief with an opportunity to access the vehicle. Make sure all windows roll entirely up and that the sunroof (if the car has one) closes.
Remove the Keys
Never leave the keys in the car's ignition. If a key is in the ignition, all a car thief has to do is break a window. Then they can drive away with the vehicle. Additionally, cars left running, even for a short amount of time during a quick errand, are natural marks for car thieves. Don't leave the vehicle running while unattended.
Remove Valuables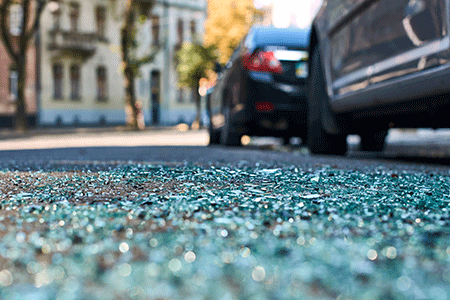 Never leave valuables in a place that passersby can see them in the car. Either take them along or put them in the trunk to avoid attracting thieves.
Park In and Near Well-Lit Areas
Make sure to leave the vehicle in a well-trafficked and well-lit area. Thieves are less likely to steal when they know there's a high chance they can be seen. Try to park under lights and on busy streets when possible.
Additionally, when parked on an incline, leave the car in park or gear with the wheels turned toward the curb to make it difficult for the vehicle to be towed.
Install an Alarm System
If the vehicle did not come with an audible alarm system, it's a good idea to have a professional install one. A visible anti-theft device can also help to deter thieves. If they see that a vehicle's alarm is armed, they are less likely to attempt a robbery. An audible alarm system typically works by making loud noises if someone tries to enter the vehicle when it's armed. The sound can attract unwanted attention and can thwart would-be car thieves from the car.
If it is not feasible to install an alarm system in the vehicle, consider installing another visible device like a steering wheel lock or a flashing light to deter car thieves. If they are worried about getting caught or making noise, they're less likely to take the car.
Install a Vehicle Recovery System
Tracking systems can assist police in recovering stolen vehicles. When a car has a functioning vehicle recovery system, it sends a signal through GPS and wireless technology to the police (or another monitoring service) after it's stolen. While some thieves may be able to disable this system, it will likely result in the police recovering the vehicle faster.
Install a Vehicle Immobilizer System
Vehicle immobilizer systems can help prevent car thefts. Some car thieves are savvy and can bypass the ignition by "hotwiring" the vehicle. If a vehicle immobilizer system is there, the thief will not be able to bypass the ignition. Vehicle immobilizer systems incorporate smart keys, wireless ignition authentication systems, and kill switches to thwart thieves. Like other systems that involve a car's wiring system, vehicle immobilizer systems should be installed by a professional.
Etch the VIN on the Windows
Car thieves do not want to spend money on their stolen goods. If the VIN of the vehicle is etched into each window, the thief will have to replace all of the glass. Multiple etched windows may deter thieves from stealing that vehicle.
Don't Leave the Title in the Car
Sometimes car thieves get away with stealing a car even if they get pulled over after the crime. If a driver can provide the vehicle's registration, a police officer may not have good reason to investigate any further. Consider keeping the title and registration in a separate location. At the very least, if more than one driver operates the vehicle, keep the documents in a secret place known only to the owners.
Plan Ahead
When traveling to and through unfamiliar areas, make sure to have a plan beforehand. Be aware of all surroundings, especially in garages, gas stations, and large parking lots. Avoid high-crime areas, even if another route takes a shorter amount of time. Most car thefts are crimes of opportunity.
Don't Resist
Do not resist if a carjacker attempts to steal the vehicle. Ultimately, vehicles are replaceable, and humans are not. While having a car stolen can be an emotional and financial hardship, a loss of life or bodily injury would be even worse.
Who Steals Cars?
Generally, there are a few categories of car thieves out there. Understanding who these criminals are and why they steal can help with coming up with ways to protect the car.
Professional Thieves
Professional thieves execute most car thefts. Professionals prefer vehicles with easily interchangeable parts, such as the ones found in popular models. Professionals also often steal high-performance cars. Usually, after a car is taken, the thief will turn the car over to a "chop shop" that dismantles the car and sells the parts for profit. Additionally, there is also a market for professional thieves to steal vehicles for export to other countries.
Joy-Riders
Joy-riders typically steal a high-end or luxury vehicle to have a night of "fun" with it. These vehicles are usually recovered quickly, but they're also usually damaged intensively.
"Bump-and-Rob"
These carjackers will bump a car from behind. When the owner gets out to inspect the damage, they'll hop in and drive the vehicle away. Make sure that there is always a way to maneuver around the vehicle in front if stopped at a traffic light.
If there's ever a threat, make sure to get to a well-lit area and to contact the police for assistance.